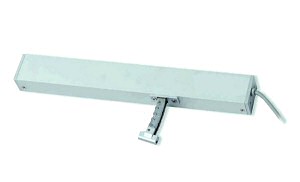 You may have seen how handy our window blind and shade systems are, now you can use the same safe, low voltage technology to control motion in your retail display environment.
Often used as a window opener (as seen in picture below), it is simple matter to adapt this unit to product display cases and cabinets because it has a direct push/pull or raise/lower action.
It uses a very clever chain mechanism that retracts the chain completely into a very low profile housing that does not require much vertical clearance (about 2 inches or 50mm). As the chain is deployed from the housing by the internal motor, it locks automatically into a semi-rigid linear actuator that can lift ~40 pounds (about 20 kg, 200 Newtons), current consumption is ~1.5 A.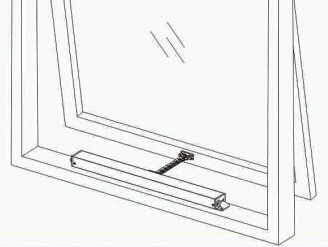 It can be used for controlling platforms, cabinet doors, and any other item you would like to move with a motorized actuator. It can be controlled by a simple switch, or with our optional remote controls.
It installs very easily, fastened in place with mounting screws. Attach the end of the chain actuator to whatever you want to move with two screws and you're done!
We have also "Future Proofed" our RollerTrol Blind and Shade Products! If you later decide to expand your system, we have created an easy pathway that uses your existing hand held remotes, preserving your investment. Please read this to find out how to control our motors with a pc, tablet, or phone.
You can buy these electric window openers in our online store.
Please keep in mind you can also use them with our web enabled USB transceiver, which further extends control to your phone, tablet, laptop or any other web enabled device (whether at home or away).
Care should be exercised when these units are installed where adults or children could get fingers caught in a moving display - serious injury could result.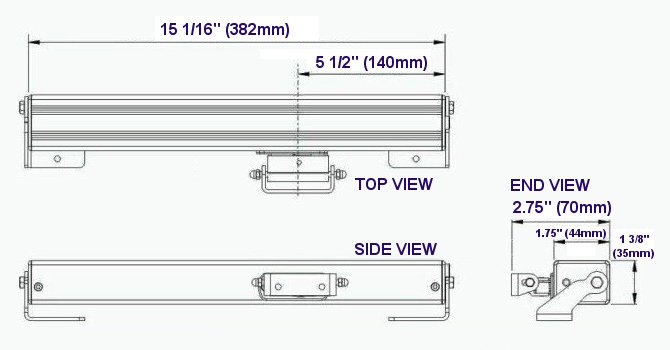 If you need to make a large skylight or bottom-up shade, you could also consider using our ShadeSlider™ chain drive skylight shade motor kit. It does not require any spring loaded roller for operation, so it can handle large shades with ease.